All Hallow's Eve… Eve
It's October 30, also known as the day I'm always scrambling to figure out what to be. I've utilized stalwart costumes like a magician (when caught in LA without a costume), a white rapper, a white pimp, and a really white basketball player. Amazingly, I've never utilized my intense lack of melanin to be a ghost or zombie. I'll have to look into that sometime.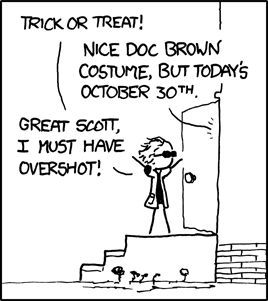 I'm off to a party tomorrow night where I've actually been told I can't be a zombie (notwithstanding my adoration of the zombie genre, I don't care enough about dressing up to be offended by this). So I'm more likely to simply go military or some other such simple task.
Halloween is a bizarre holiday. It contributes to our obesity epidemic and has managed to promote a) the sweets industry, b) the dental industry and c) the looking like a whore industry. Seriously, though, from whence did the holiday move from little girls going trick or treating around the block with their dads, to girls aged from adolescents to cougars dressing up like they're pulling tricks around the block in outfits that would give their dads a coronary? NOT that I'm complaining about that last bit. I'm just saying that the evolution surprises me.
Anyway, I'm looking forward to it and the end of a dull work week where I procrastinated more than anything else. And I'm psyched to see some sexy [nurses / Rosie the riveters / Catwomen / meter maids / french maids / etc.]. For a full list, please see the 100 Sexy Halloween Costumes List.